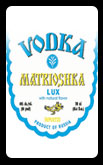 Vodka Matrioshka was 1st launched into the market in 1999. Premium quality spirit is distilled from the selected sorts of wheat grown in the Russian regions. Best ecological conditions are used in the production of Vodka Matrioshka.
Three-step water purification provides crystal clearness and mineral enrichment. Additionally, water-alcohol mixture is filtered with the help of activated birch-tree charcoal, which absorbs impurities, softens and improves the taste noticeably, and considerably reduces the hangover. Vodka is additionally filtered through silver and platinum filters, which help to achieve deeper purification.
Additionally, for Vodka Matrioshka honey, flower and linden honey is used, while Matrioshka-cranberry contains natural extract made of fresh cranberries.
It is poured out into the exclusive French bottle in the form of Matrioshka.
The varieties of Vodka Matrioshka are: Lux (original), Honey, & Cranberry.