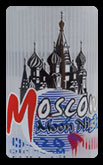 Many years ago, Mother Russia bestowed upon the world the gift of distilling vodka. Unfortunately, she did not give away the much guarded secret of producing masterful, mystical, unparalleled, Russian Vodka.
Welcome to Moscow Moon Nights, the world's finest, smoothest, genuine Russian Vodka. Moscow Moon Nights was developed preserving the original Russian secrets of distillation successfully merging the modern advanced technologies of vodka production. While most countries, including America, distill vodka from bountiful ordinary grain, which results in a neutral blend spirit with no apparent characteristics or personality, ultra premium Moscow Moon Nights is distilled from wheat that is only grown in the ecologically pure areas of Russia. Three-step water purification gives crystal clearness at the output plus mineral enhancement.
Additionally, alcohol is mixed at the temperature of 15 degrees Celsius. The mixture of water and alcohol is filtered with the support of activated birch-tree charcoal. Birch-tree charcoal has the capacity to take in impurities, soften and enhance the taste distinctly, and reduce the effect of overindulgence. Moscow Moon Nights is additionally filtered, which aids in achieving deeper distillation and velvet-like smoothness.
Moscow Moon Nights Gold is non-aged and is exceptionally clean to the palate with a gentle hint of wheat characteristic.
Moscow Moon Nights Platinum is patiently aged in stainless steel tanks which achieve a delicate marriage of velvet-like smoothness, offering a lingering, lovingly wheat-like finish.
For Moscow Moon Nights, the main difference is in the flavor, because vodkas seem the same when it comes to appearance and aroma. Moscow Moon Nights' taste starts out delicate and smoothly goes down and ends with a bang, followed by a smooth aftertaste which quickly fades away. Moscow Moon Nights is a great choice of vodka for a shot or on the rocks, because you can encounter the quality without any interference from other mixers. However, it can also be mixed with drinks that call for a larger amount of vodka than mixer. With this kind of vodka, you do not want to block the great flavor with unnecessary sugar or artificial mixers.
Overall, Moscow Moon Nights is an outstanding choice when it comes to choosing vodka.