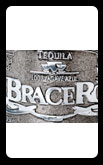 Tequila Bracero is produced with the finest agave plant. Each of the fine products contain 100% blue agave, harvested direct from the valley of agave in El Arenal, Jalisco, just minutes away from tequila town, Jalisco Mexico.
Tequila Bracero Anejo is kept in the white oak caskets for more than one year. It has a woody taste and amber color.
Tequila Bracero Reposado is kept in white oak caskets for up to two months. It has a gentler taste and pale color.
Tequila Bracero Blanco is the traditional tequila. It is fresh, clear and transparent, and it keeps the strong flavor of blue agave.